Shopping Cart
Your Cart is Empty
There was an error with PayPal
Click here to try again
Thank you for your business!
You should be receiving an order confirmation from Paypal shortly.
Exit Shopping Cart
Home of Modern Taekwon-Do
| | |
| --- | --- |
| Posted on February 22, 2020 at 5:55 AM | |
Great weekend of Taekwon-Do with two excellent Masters, Master John Archer,Master Ian Ridley and of course the support of Mr Andy Crisp. Very proud to have hosted an amazing seminar and then grading with great enthusiasm for Taekwon-Do and exceptional attitude.
Proud to announce
Promoted to 3rd Degree Blackbelt
Debbie Wilson
Chris Sheppard
Lewis Alexander
Promoted to 2nd Degree Blackbelt
Darren Duthart
Chloe Lei
Elyssa Killin
Connor Stuart
Robbie Sheppard
Promoted to 1st Degree
Kyle Henderson
Holly Smith
Arran Douglas
Nicole Forrester
Declan Morrice
Jemma Ritchie
Robyn Gilfillan
Jamie Ball
Caelan Robertson
Andy Finnan
Robert McQuillan
Keira Ruiz
Caitlin Ruiz
Amy Sloan
Promoted to 1st degree junior 2 star
Hollie Waddell
Stuart Alexander
Promoted to 1st Degree junior 1 star
Jena Duthart
| | |
| --- | --- |
| Posted on April 9, 2019 at 8:55 AM | |
On the 7th of April our senior instructor and founder of Scotia Taekwon-Do, Mr David Condie, sat and passed his grading for 6th Degree.
Mr Condie pictured here with Grand Master MacCallum and Master Archer.
Congratulations from all at Scotia TKD and T-UK!!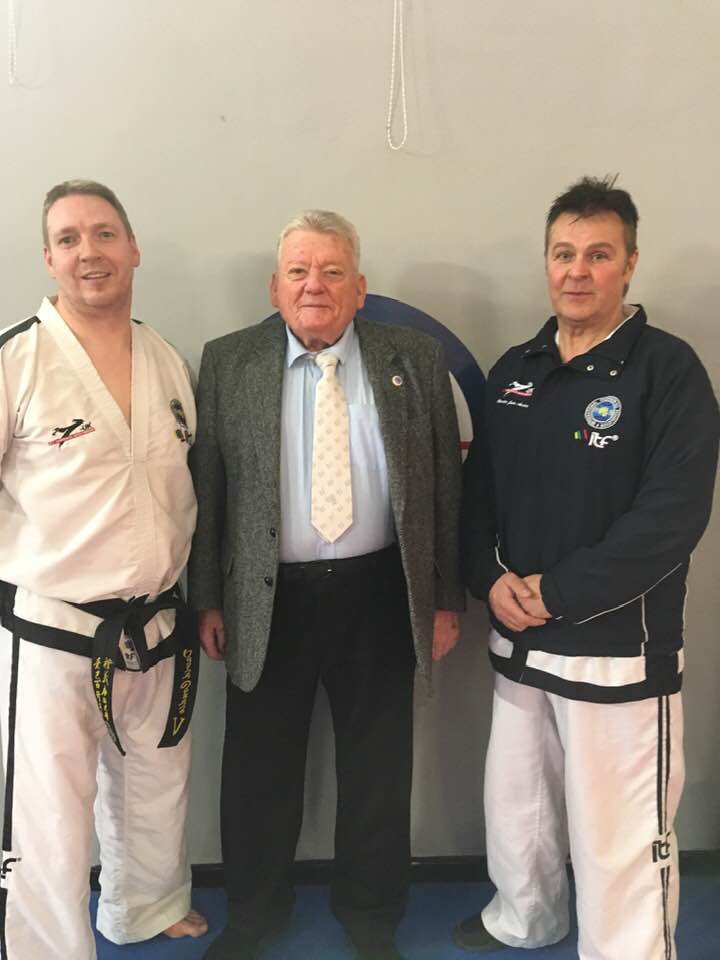 | | |
| --- | --- |
| Posted on February 18, 2019 at 11:30 AM | |
There was a Black Belt grading held on Sunday the 17th of february, conducted by Master Archer and Master Ridley. We are proud to announce the following promotions...
2nd Degree
Lorna Ferguson
Luke Patrick
1st Degree
Gillian Mulhall
Lesley Carver
Robbie Basford
Nadine Malasko
Libby Devlin
Ben Milne-McCafferty
Aarron Bruce
Jena Duthart
Ross Ferguson
Junior Star Grades
3rd Star
Rahul Kishore
1st Star
Hannah McIntyre
Kara Forman
Ross Odger
A MASSIVE congratulations to everyone!!
| | |
| --- | --- |
| Posted on November 11, 2018 at 4:05 PM | |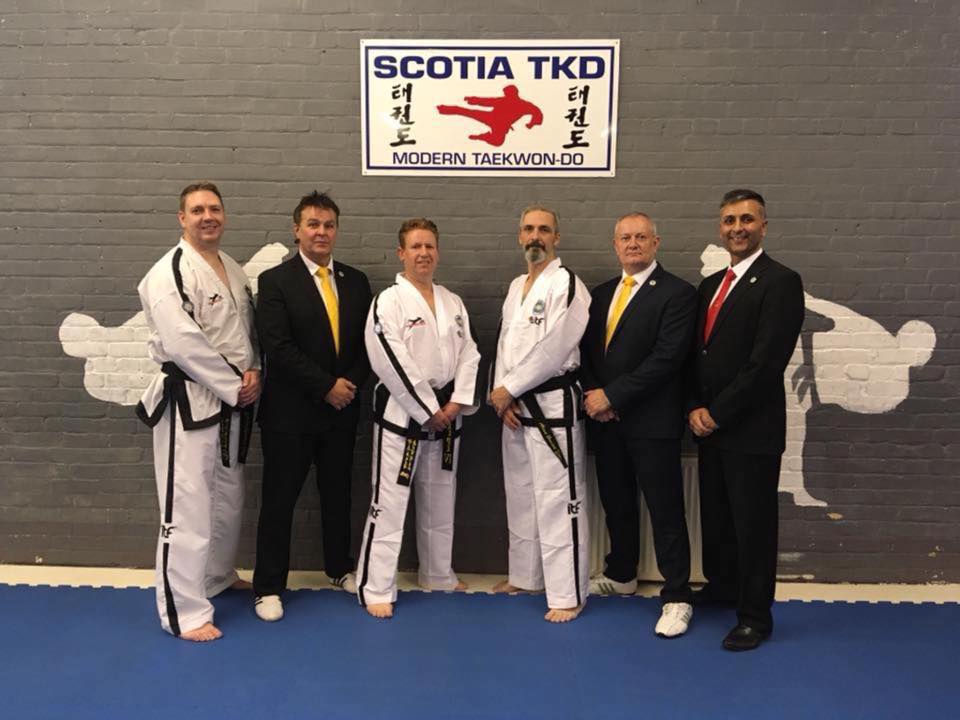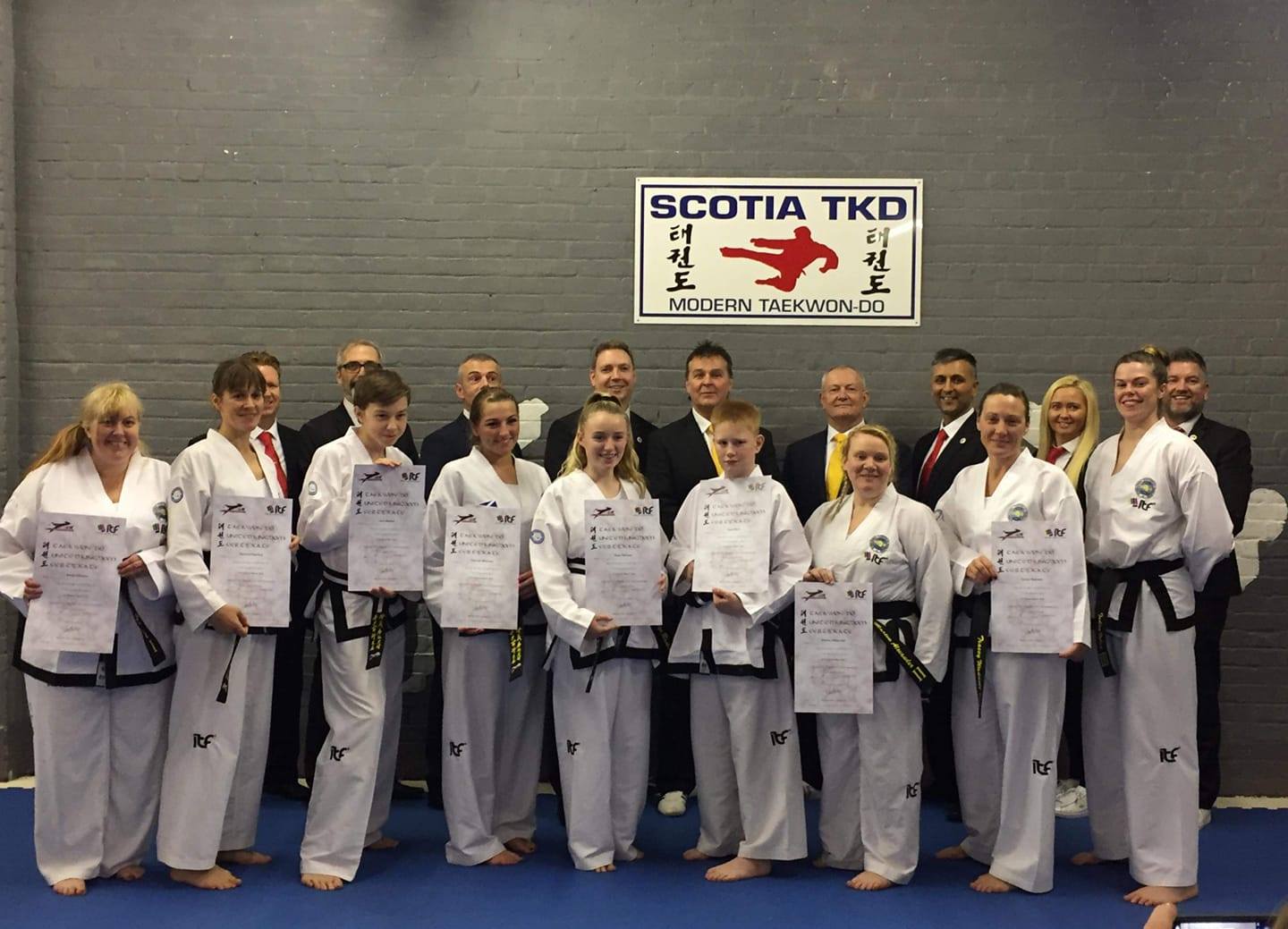 Very proud of all successful candidates at the grading today. 9.45 start, 4.40 finish.
Pleased to announce the following
4th Degree Alan Baird
3rd Degree. India Isles
2nd Degree Barbara Harding
Marion Alexander
Hannah-Jade McInnes
1st Degree Kirsty Joanne Zaharia
Tracey Waddell
Ryan Park
Skye Ramsey
Jack Mulhall
Great effort, great day , great grading by two Masters
| | |
| --- | --- |
| Posted on August 10, 2018 at 7:20 AM | |
Well it's official. Teaching Tkd for 20 years today. Everyone always tells me that Taekwon-Do is a journey and everyone must have their own unique path. In the past 20 years it has amazing to see the impact that Tkd can have in peoples lives. I would like to thank everyone who turned up last night to see me, it was really appreciated.
They say that behind every successful man there is a great woman. I don't know how to gauge if I am portrayed as successful but I do recognise however how important it has been to have had the honour to have Kara Lambie by my side always, she is the real golden nugget x. I thank and love you Kara.
Alan Baird my longest serving student, another unsung hero, who along with his family have helped me so much, always shows the tenets and was there at my first class and will be there at my last
Lee Anderson Topgun Tkd, Donna Black, Lauren McMillan, Gary Armstrong along with Alan are my moral compass. They are the backbone from the start and still continue to support me. The old guard! (Sorry girls). All reduce me to an emotional wreck. Lee has always been my human side, he is passionate funny ( he thinks), and is one of the kindest human beings I have had the pleasure to meet.
The new instructors are great to show passion and eagerness to drive things forward constantly, Debbie Wilson Elaine Easthope who have 100% attendance and energy levels. The constant volunteers who help arrange events Jaqueline, Marie, Hazel Walker, Lindsay Ferguson, Claire Jones, Norma, Maggie, ally to name but a few ,and also the great support I receive from students families.
Thank you to my instructors who continue to spread Tkd, in the past 20 years we have produced around 300 black belts. I am currently compiling a list which is taking me down memory lane. It is an amazing feeling teaching kids like Lauren McMilllan then seeing them turn into amazing adults and then teaching their amazing kids, a Tkd legacy gift. It is also amazing to have stuart Barrie, my first 4th Degree, an amazing brother and his military thoughts on Tkd are second to none definitely a match with the military , no nonsense Alastair Smith who always knows right from wrong.
I truly thank everyone I have had the pleasure of meeting along my journey and hope it continues. I can't name everyone but you know who you are.
Instructors over the years
Stuart Barrie -Dunblane
Alan Baird - Blackburn
Lee Anderson Topgun Tkd - Lanark / Law
Donna Black - Lanark
Kyle Mathewson - Aberdeen
Gary Armstrong - Bothwell
Frank Kennedy - Whitburn
Gordon Adams - Denny
Alex McDowall - Wiston
Ian Mc Dowall - Stirling
Derek Mac Farlane - Wiston
Lauren McMillan -Ashgill
Stewart Walker - Glasgow
Iain MacDonald - Bo'ness
Debbie Wilson - Ratho, Kirkliston, Forth
Ian Wilson - Ratho, Know kirkliston , Forth
Stephen Steff Taylor - Grangemouth
Stephen McShane - Glasgow
Catherine McShane - Glasgow
Norri Tait - Cumbernauld
Stuart Carey - East Kilbride
Kevin McLear - Larkhall
Tracey Hamilton - Forth
Jeanette Nelson - Forth
Stephanie Mann - Glasgow
Nikki Anderson - Edinburgh, Livingston
Michael Carver - East Calder
Chris Sheppard - Falkirk
Kenny Ferguson - Dennyloanhead
Helen Peake - Glasgow
Joe Findlay - Winchburgh
Barbara Harding - Douglas
Elaine Easthope - Carluke
Alastair Smith - Carluke
Nora Meuse - Glasgow
Meg Murray - Forth
Caroline Joynes - reach Autism
Between all, taught thousands of people Tkd, the general would be proud.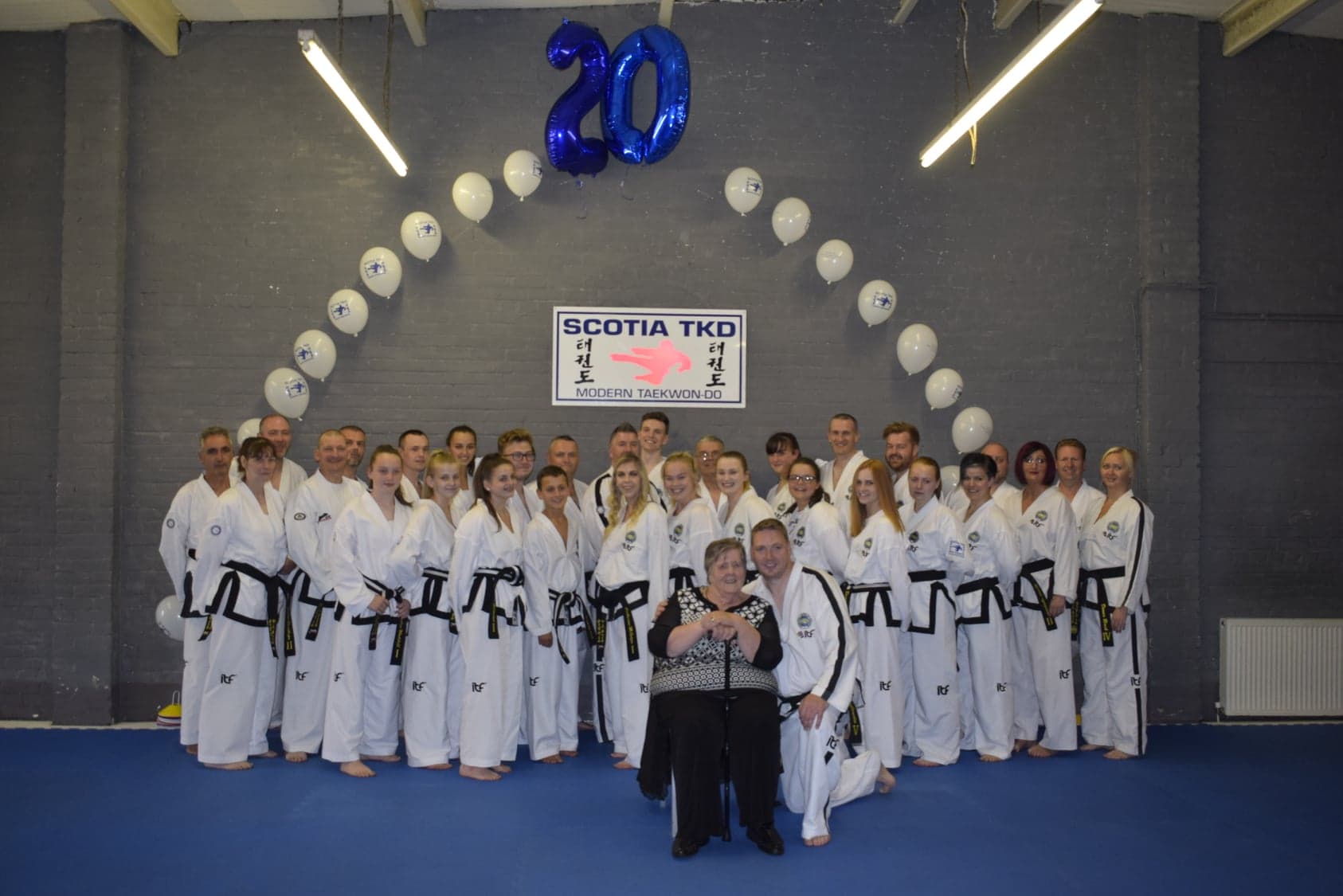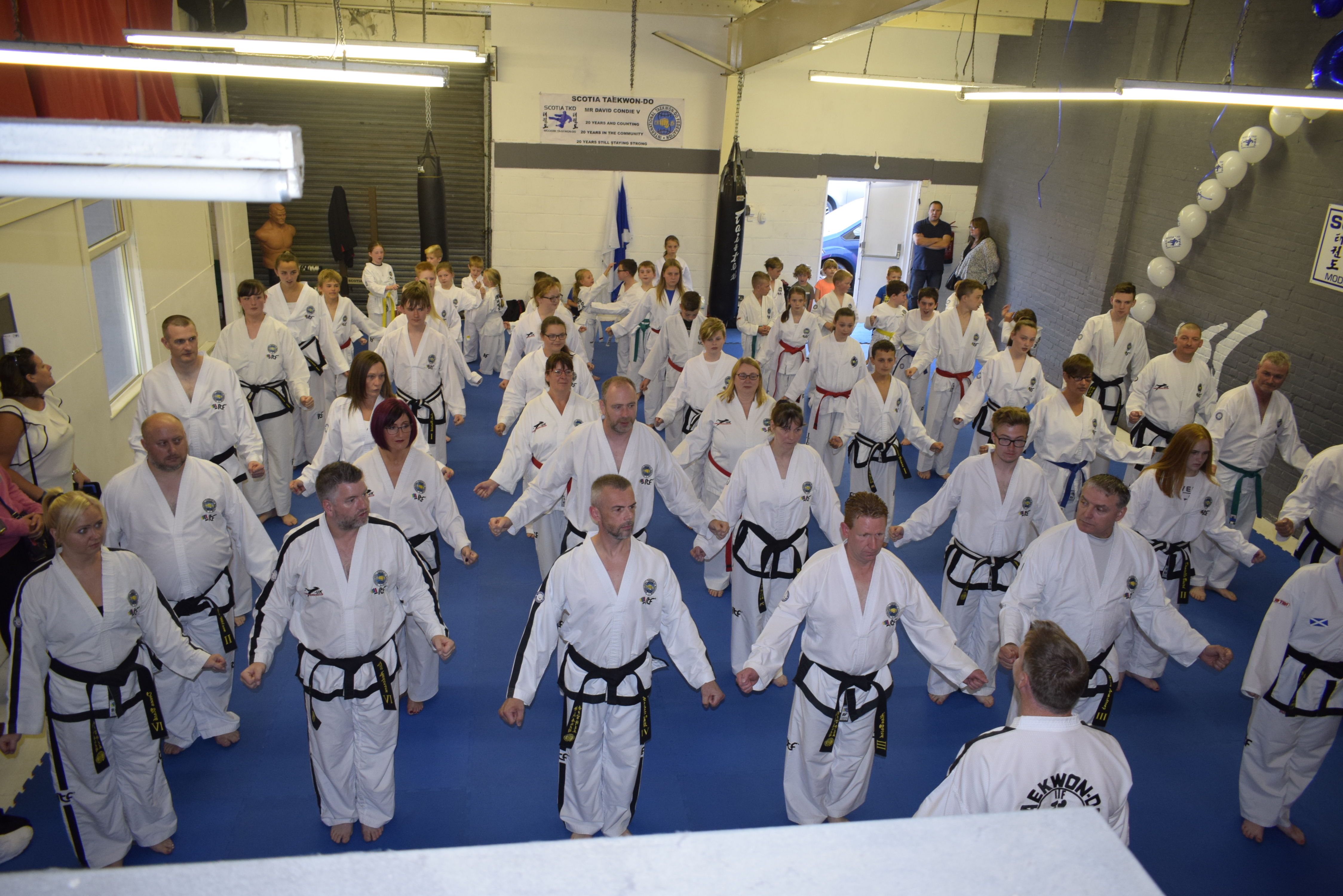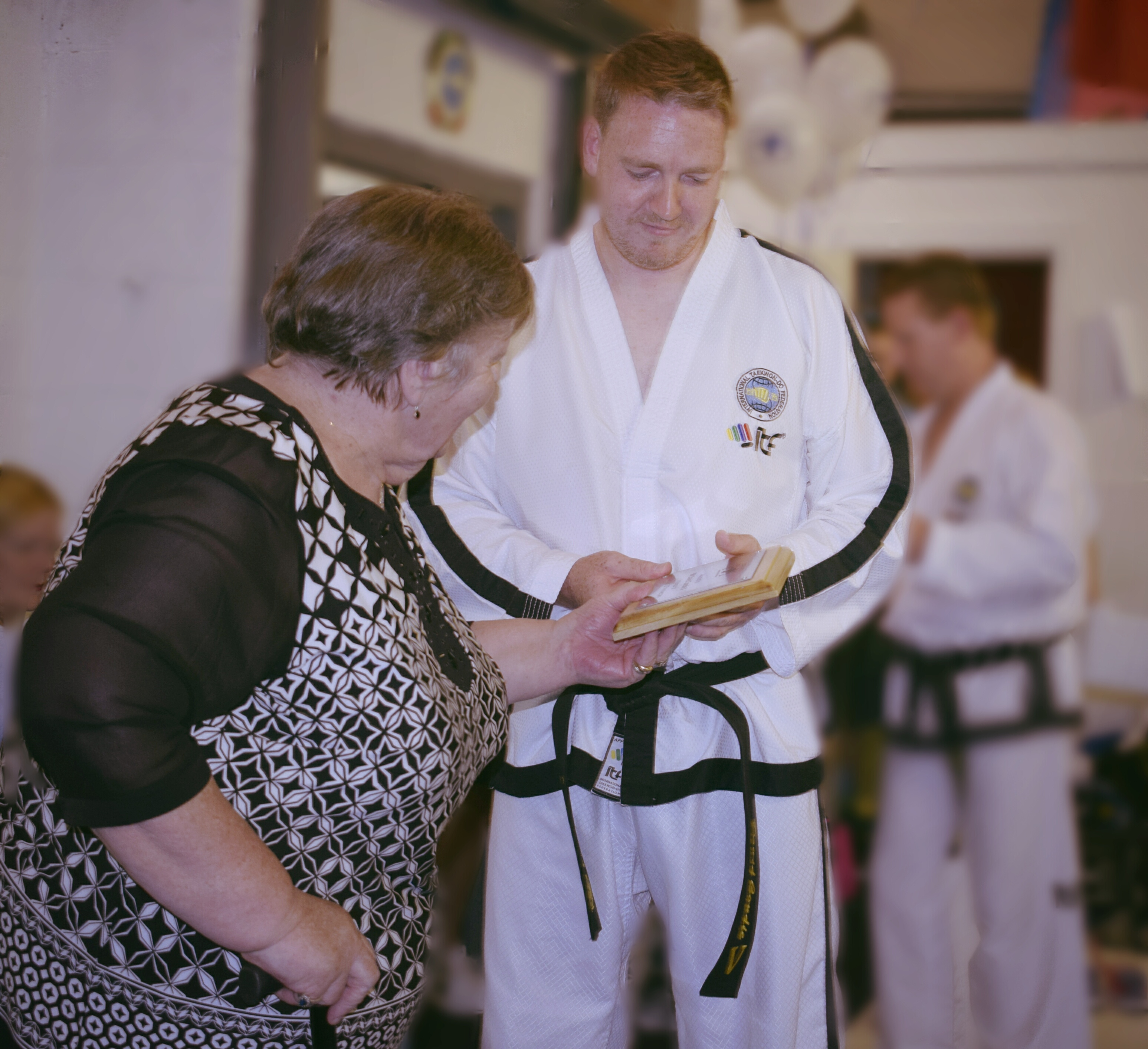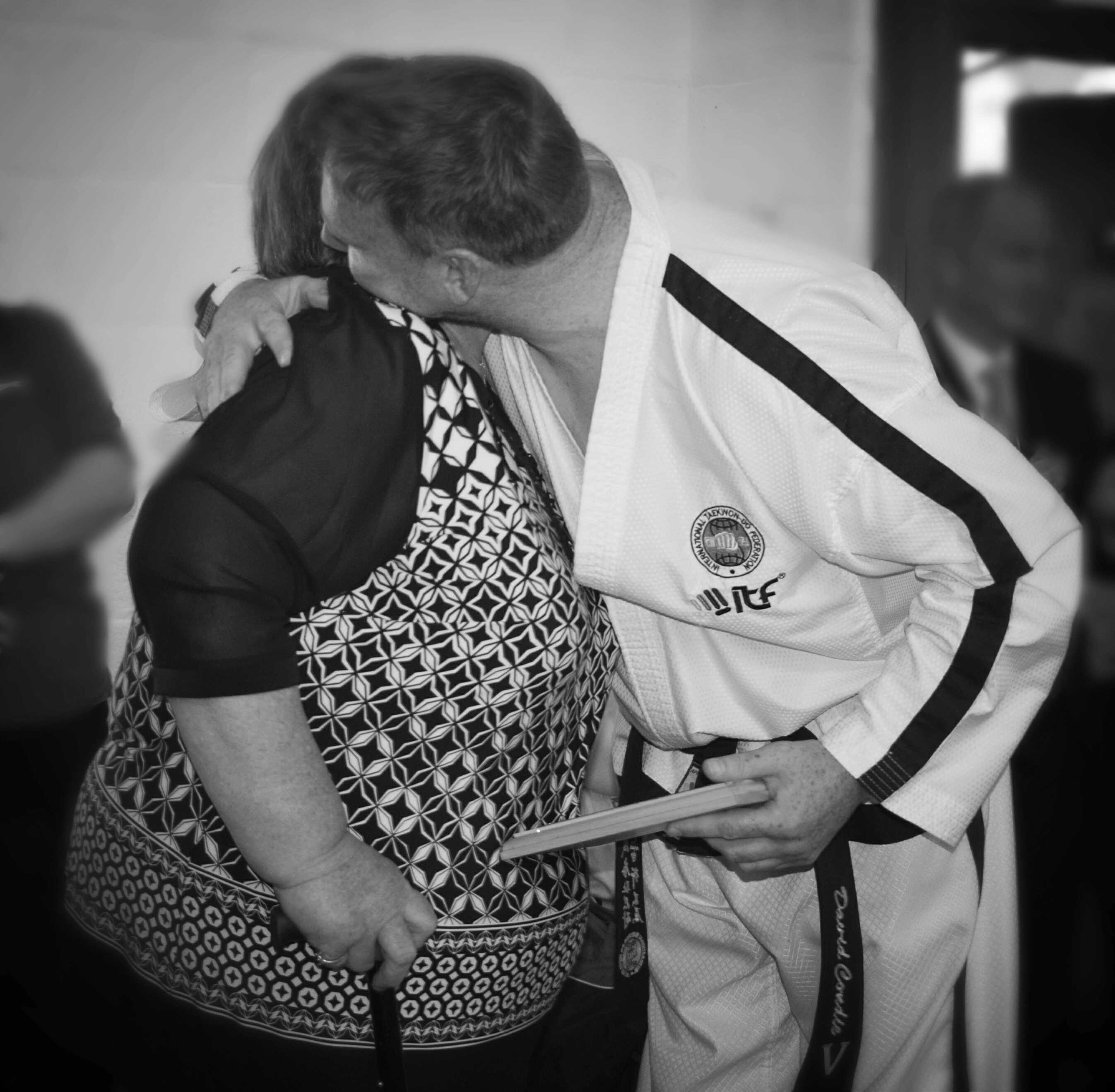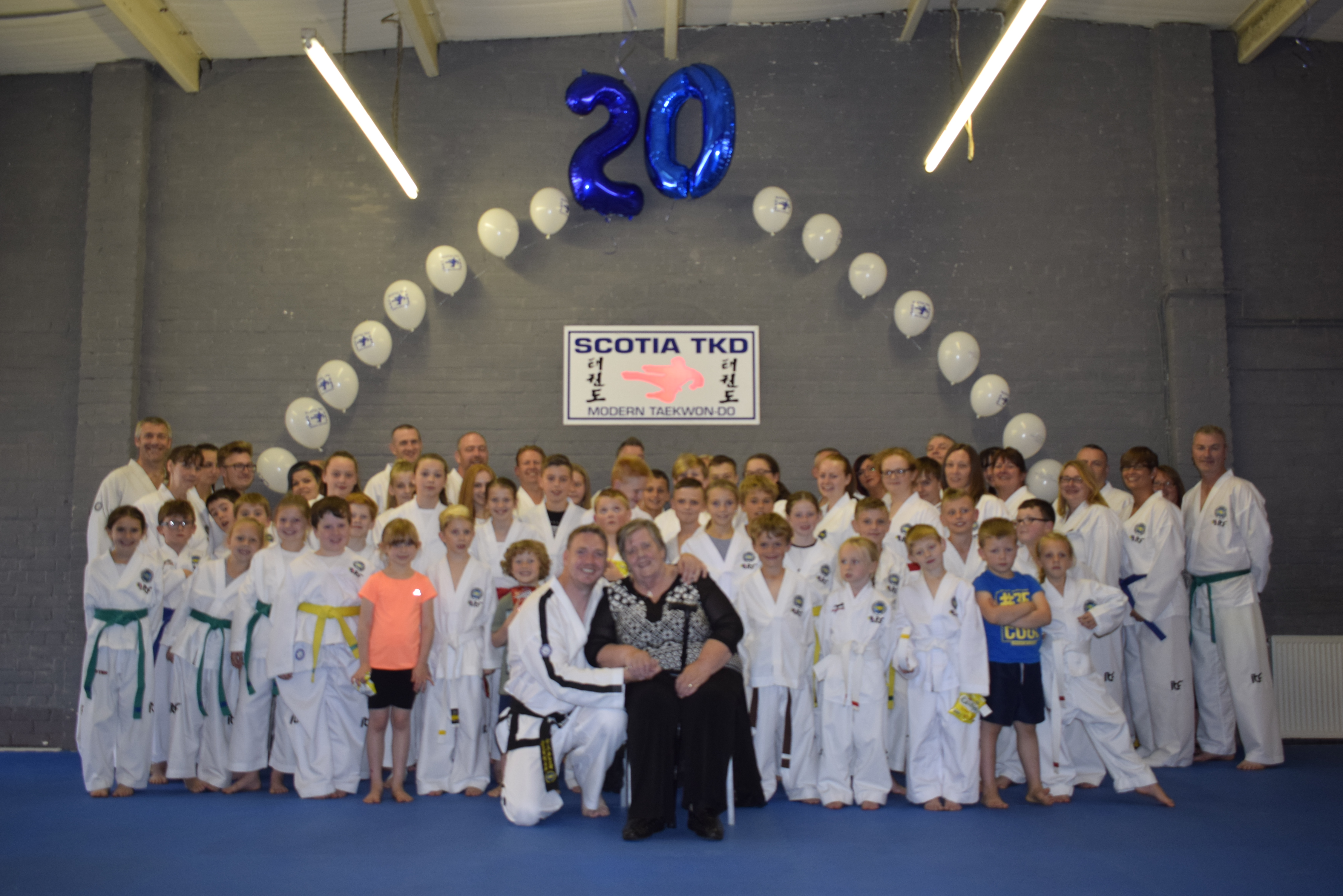 | | |
| --- | --- |
| Posted on October 29, 2017 at 10:10 AM | |
We would like to welcome and congratulate all those that graded:
Promoted to 3rd degree:
Gary Armatrong
Liam King
Promoted to 2nd degree:
Megan Brodie
Promoted to 1st degree:
Craig Forman
Steven McCluskey
Darren Duthart
Catherine McIntyre
Roan Harding
Stuart Alexander
Kyle Paterson
Blair Chisholm
Alaistair Forman
Logan Ashe
Hollie Waddell
Promoted to 1st degree 3 stars:
 Neve Stuart
Promoted to 1st degree 2 stars:
Lorna Ferguson
Luke Patrick
Promoted to 1st degree 1 star:
Megan Dinnes
| | |
| --- | --- |
| Posted on July 14, 2017 at 12:10 AM | |
Taekwon-Do UK Scotland are delighted to announce the recent International Testing results. Our President Mr John Archer and Secretary Mr Ian Ridley have successfully tested and have been promoted to 7th Degree Master Black Belts. On behalf of everyone in SCOTLAND A HUGE CONGRATULATIONS!!! Well Done
| | |
| --- | --- |
| Posted on October 20, 2016 at 4:45 PM | |
Scotia TKD squad came back with 3 medals from the ITF World cup in Budapest 2016
All medals were won in sparring
Catherine McIntyre SILVER
Lee Anderson BRONZE
Sam Harrower BRONZE
Lewis Walker, Alex Marshall, Gregor Towers and Saphire Gilmour all fought hard to get to the last 8 in their divisions, but unfortunately just missed out the medal positions. Lewis Walker also had the best Pattern event of his life and also came short just in the quarter finals and missed out on a medal.
As the head coach I was extremely proud of everyone's performance and hoped they gained valuable experience from this high standard of competition. The squad were as follows
/